I count myself fortunate enough to have people such as BBC New York correspondent Nick Bryant (he went to my primary school) and Wendy Smith (member of the best pop group in the world, Prefab Sprout) among my followers. How I have not managed to lose them (and countless others) over the last 3 days is (frankly) beyond me, as my timeline has been swamped with my tweets from #ililc5 in Southampton, which must have most of the 26% of my followers who are not language teachers either scratching their heads or shaking them in despair (or both).
#ililc5 is the annual ICT Links Into Languages Conference which brings together all those who are passionate about languages and even more passionate about teaching our young people about them through the medium (when entirely appropriate, of course) of ICT.
This year's extravaganza was eagerly anticipated and gave yet another opportunity for us all to renew or initiate real-world incarnations of virtual friendships, as most of us are connected via the #mfltwitterati on Twitter.
Without too much unnecessary detail, I wanted to share my thoughts on the weekend (which are just about settling in my head now, following 24 hours or more of swirling around)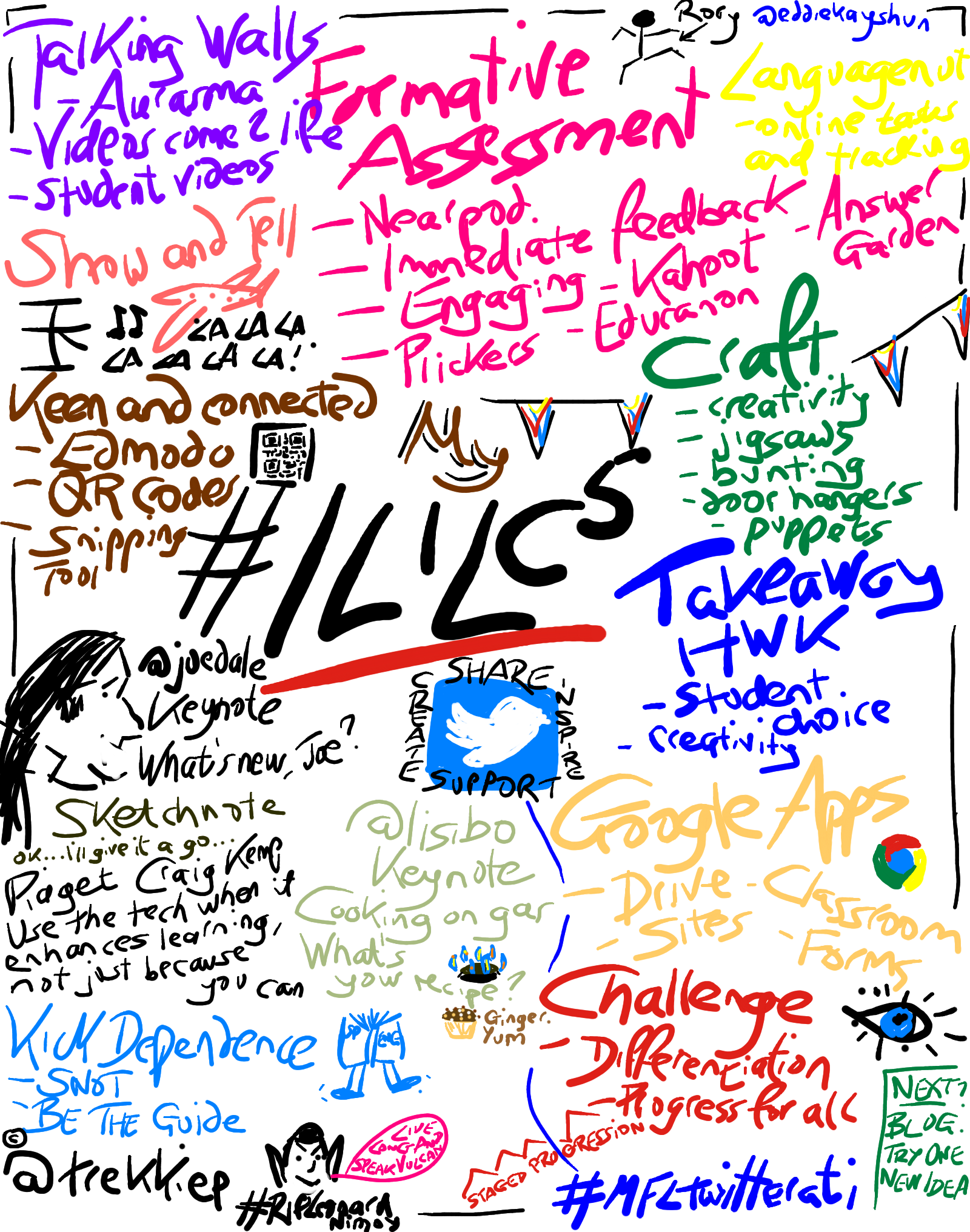 Keynote: Capturing The Zeitgeist- Joe Dale (@joedale) – the curator of all things #mfltwitterati provided another informative and thought-provoking journey through all that has been happening this year in the world of ICT and language-learning (unabridged Flipboard link). As someone particularly interested in the impact of on-line collaboration and PLNs, the research into the effect of the #mfltwitterati undertaken by Fernando Rosell-Aguilar (@FRosellAguilar) was fascinating. Joe also encouraged us to sketch – so I did … and the result is above!
Take-Away Homework: James Gardner (@Langnut) – the chance to find out more about this alternative take on a thorny issue. James was honest enough (thank you for this) to share the good, the outstanding and the disappointing results of an approach which gives the students more choice in the homework activities that they have. Can we ever reach the point where students WANT to do homework? I think we can, to a certain degree, if the right types of tasks are on offer. Take-away homework is one avenue that can help.
Get Crafty: Clare Seccombe (@valleseco) I firmly believe that there is an arty primary teacher in me that is trying to get out. That's why I love Clare's sessions. They are jam-packed to the rafters with ideas that can easily be transposed into the secondary classroom, like the mini-books idea which I took on board and used after #ililc4. This year, try door hangers, bookmarks, bunting and board games (just for starters), with templates and further fun ideas to be found at the LightBulb Languages web site.
Fabulous Formative Assessment: Rachel Smith (@lancslassrach) Considering the tech issues that we had at the start of this session (oh yes, it's great when it all works, but a sod when it doesn't), I was amazed by how much ground Rachel was able to cover in the time that we had, taking us through hands-on demonstrations of Kahoot, Answer Garden, Nearpod, Educanon and Plickers. I liked the immediacy and fun of Kahoot with the added bonus of being able to download the results for further analysis and subsequent reflection.
Talking Walls: Ceri Anwen James (@CeriAnwen) This was the most 'magical' session as we had the chance to try out and then create our own examples of Aurasma. This is an app which literally brings pictures to life (in pure Harry-Potter-esque fashion). Ceri showed us how she had used this in the context of her school in Cardiff and then let us loose on creating our own. Within a few minutes, my Arsene Wenger photo had a video of me mystically hovering over it, telling the pragmatic Frenchman that he should really go to Specsavers if he wants to see some of the incidents involving his players on the pitch which he claims to be unaware of.
The evening saw a more informal side to the #ililc5 gathering: the Show and Tell at the Highfield Hotel. A time for dancing and singing, eating and drinking …. but still (just about) maintaining a level of decorum appropriate to our profession (ahem)
There were many gems: Ceri Anwen James's Song (Fliegerlied), Alex Bellars (@bellale, with a more than a little assistance from Mrs B – MrsBellacat) and 'Le jeu de l'oie' board game, Julie Prince (@PrinceLanguages) and The Porter Song (to the tune of the National Anthem!), Lisa Stevens's (@lisibo) wonderful Chocolate Choco Choco Song, Daniel Cooper (@d_ewc – glad to see the Twitter handle is shorter now, Dan!) with the Great Spanish Grammar Off, Jo Rhys Jones (@jowinchester) with 'Les Pouces En Avant' and Rory Gallagher (@EddieKayshun) using YouTube to engage students and then exhibiting his own inimitable dancing to 'crown' the evening.
Sunday saw one or two late risers but we were back for more by 9am!
Keen and Connected: Vanessa Burns (@nessalovesshoes) This was part 2 of a 2-session series, but I was glad I joined for this one, because it re-united me with an old friend, namely Edmodo: the site where students and teachers can meet securely online to share resources, communicate and collaborate. I also re-visited the potential for QR codes through the use of QR code generator qrstuff.com. These quirky, dotty designs are so powerful and make vital sites and information accessible at any time. I can see the potential for using more of them in my room. Then there was the 'Snipping Tool' application in windows – one of those (for me, anyway) 'insider' secrets which comes as something of a 'wow' revelation when you discover it!
Google Apps for the Classroom: Jo Rhys Jones (@jowinchester) I'm only slowly discovering the potential for Google (and its myriad of components) for the classroom, so this session was particularly enlightening. I tried out Google Sites, Google Forms and Google Classroom for the first time with Aurelie Charles (@aurelagazel) as my buddy to help me when I got stuck. The way that Jo's school has harnessed and then applied the Google resources is superb and the quality of work on show from her pupils is fantastic. My thought is that the key to success here is being a 'Google' school and approaching this with a whole-school perspective. Sure, you can use everything as an individual teacher, but only when the whole school is doing it the 'Google' way, will the full benefits be reaped, IMO.
Now There's A Challenge: Eleanor Abrahams (@elvisrunner) – A real learning experience, this one. Eleanor crafted this session really well, putting us in the position of students, as we compared our own (rather amateur, speaking personally) solo efforts at drawing eyes to 5 different levelled examples of eye drawings, and then sought to improve our own version by learning from what we could see in these examples.
5 levelled examples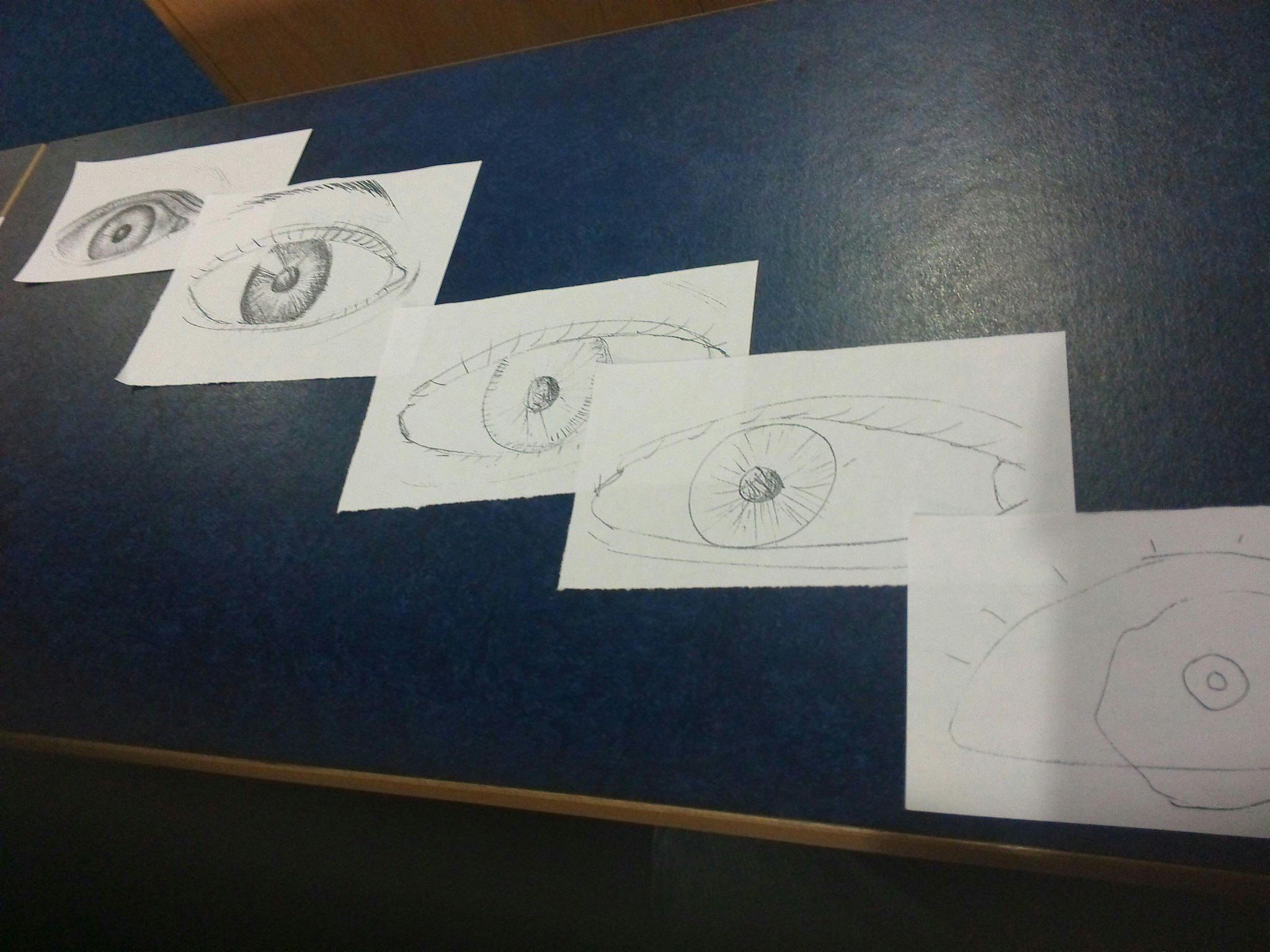 My attempt before …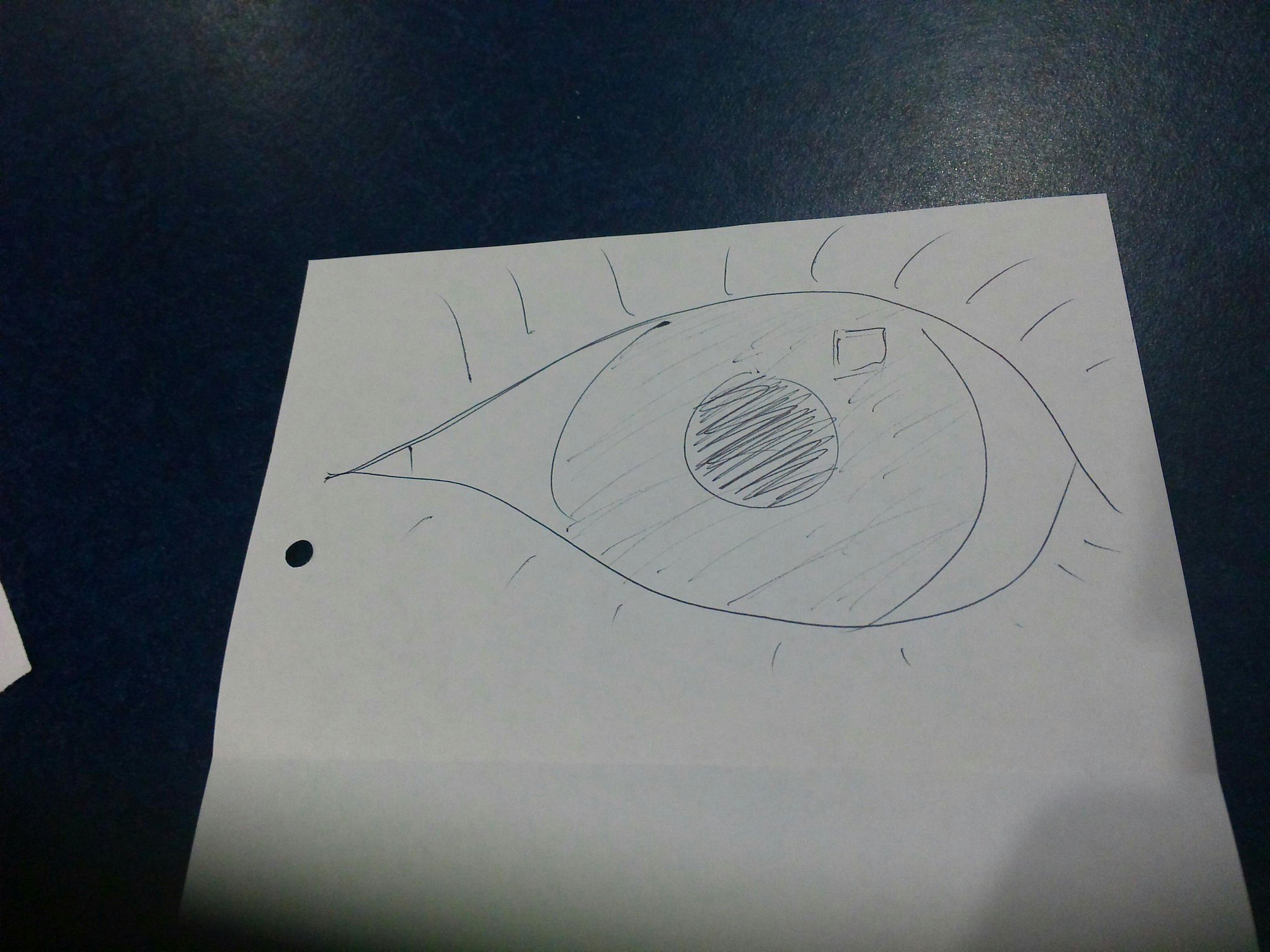 and after looking at the examples …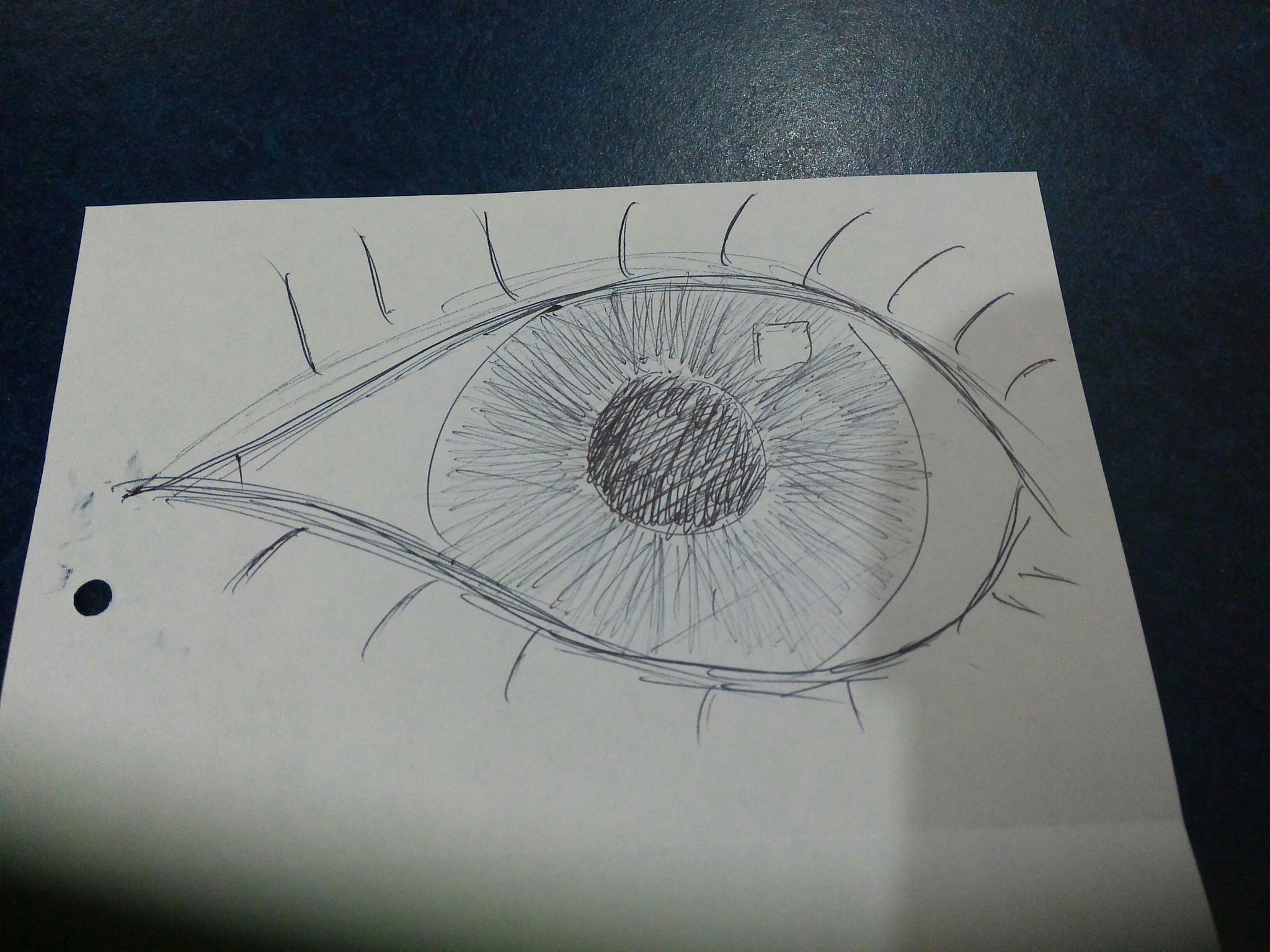 In short, students do not all need to be shown an A* example of work to inspire them. In fact, for most, this will be demotivating. They need examples of staged progression, so that they can find something that is just above their current level and aim for that, in the first instance. Eleanor then showed how differentiation works at her school, with different colours designating differing levels of ability. Activities are then similarly colour-coded, so that students can aim for achievement at an appropriate level, but equally could aspire to achieve more than this by going for an activity in a colour band above their own. She pointed to a new wave of differentiation, where 'creativity is king'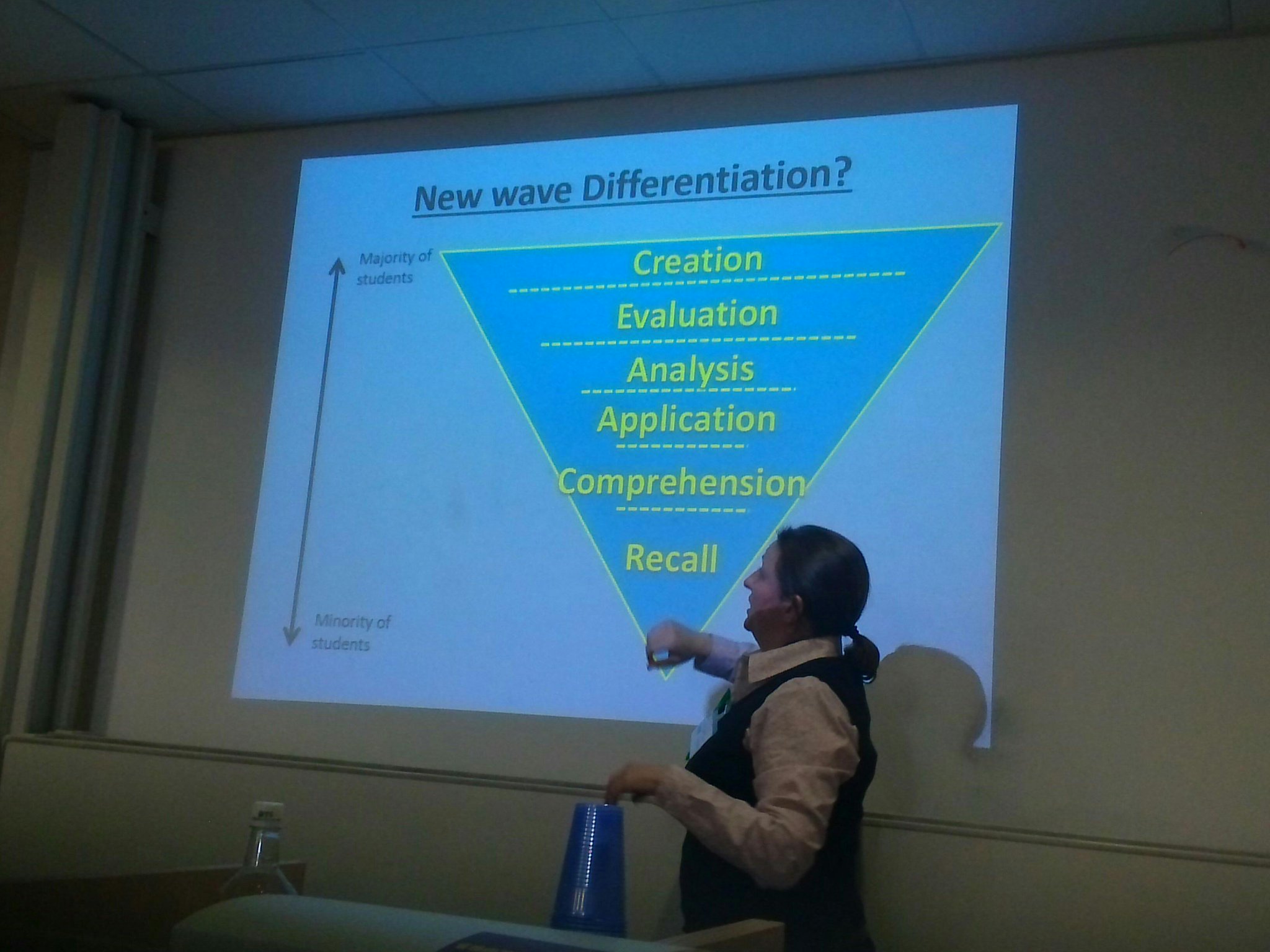 Full details of Eleanor's workshop can be found in this entry on her blog
Kicking Dependence: Rachel Smith (@lancslassrach) Ever felt like a walking dictionary? (Yes). Then this session gave strategies to enable us to make students work harder and take more ownership of their learning rather than falling back on the 'learned helplessness' that many of them exhibit so readily (and, let's be honest, we encourage). So, in short, be the guide. Don't give students the answers, but provide them with all the support materials they need to be able to find the answers, whether it be dictionaries, wall (or window) displays or learning mats. Get your students to SNOT – go to Self, Neighbour, Other and ONLY THEN to the Teacher in search of assistance. Use QR codes to give students link to support. Give away all your teaching materials, making them available online for students to access. Set your classroom up in a way that encourages student collaboration. Again, lots of practical ideas.
Key note: Cooking On Gas – Lisa Stevens (@lisibo) Food, glorious food. Cupcakes, cracking cupcakes. A great finale to our time together saw Lisa ask us to think about what the ingredients are in our lessons. Do these ingredients always bring the same results? Are we star bakers, drawing out a show-stopping performance when required for an observation, or are we consistently good on a daily basis (which is my own personal definition of an outstanding teacher)?
Just as recipes sometimes go inexplicably wrong, so do lessons. If we try something once and it goes awry, that does not mean that we have put the whole thing in the bin. Persist. Re-group and try it again.
Who are your languages heroes? The ones who have inspired you to press on in your language-learning or language-teaching quest? Mike Sadler (Bishop Vesey's Grammar School, Sutton Coldfield during my time there – 1980-86) was mine. Remember, each one of us is doing great work in our classrooms day in and day out. The right people may not walk in at the right time to see you in action, but they are not the important ones – the students are.
Thank you Lisa – and thank you for the cupcakes – the ginger ones were great.
So, what will I take away from this weekend?
Well, a whole headful of ideas are bursting for priority to get out. However, experience (this is only my 2nd ililc) has taught me that you have to start small, so my aims are:
1) Use Today's Word in my classroom (from Eleanor's session)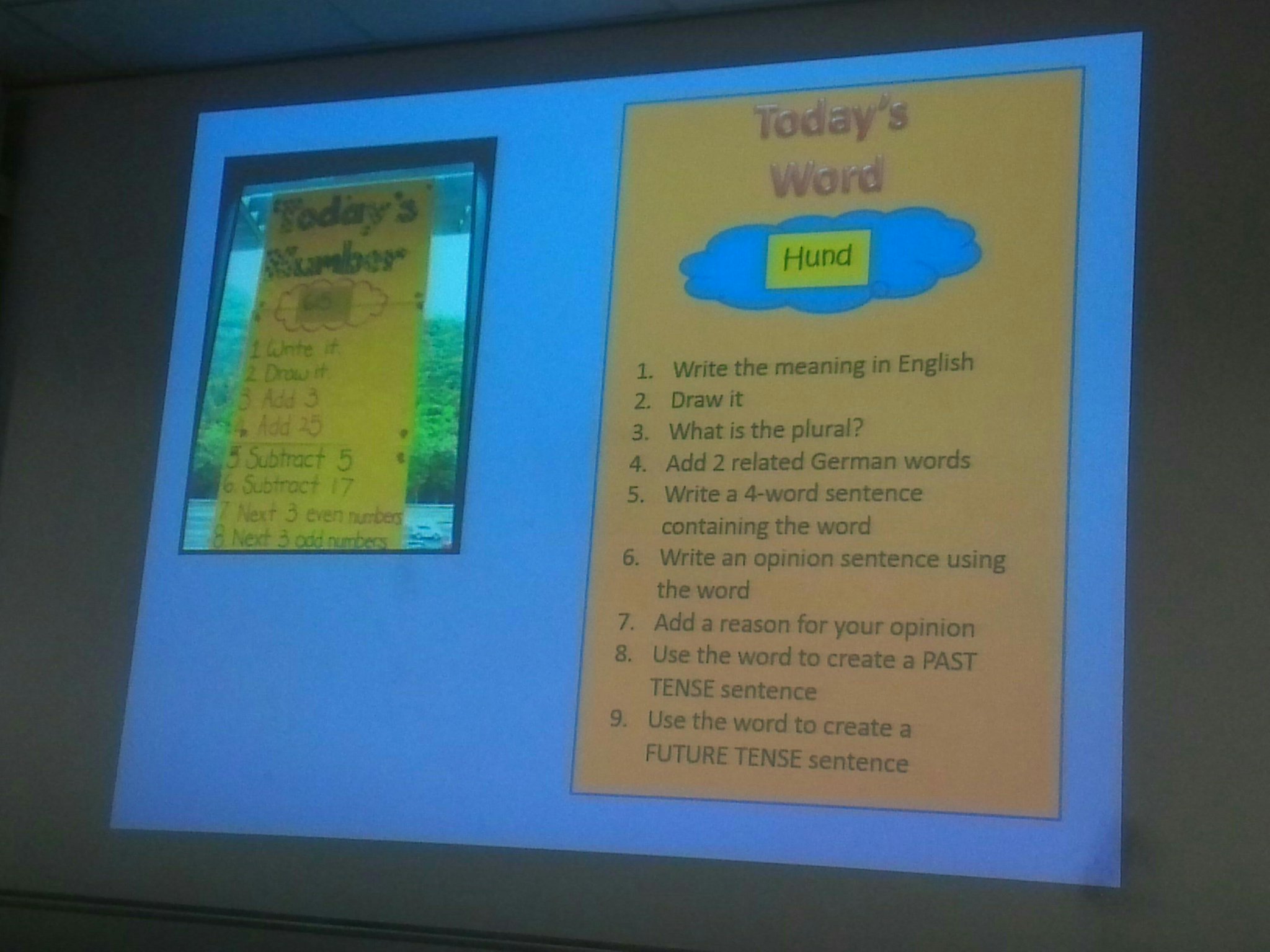 2) Re-boot my Edmodo profile with one class
3) Try Kahoot
4) Look back to this blog when I have tried numbers 1-3 for more great ideas
Thanks to all those who made the weekend possible notably Zena Hilton.
Until #ililc6 …
Live Long And Prosper